Before you log a ticket, you can take the following steps to solve some common technical issues:
Check your permissions: actions such as setting Low Stock Alerts or updating users can only be performed by the Account Owner. Ensure your permissions allow for the setting.
Clear your browser cache: Clearing the browser cache can resolve issues caused by outdated or corrupted data. Go to your browser settings and clear the cache, cookies, and browsing history.
Try a different browser or device: Switching to a different browser or device can help determine if the issue is specific to your current setup. If the application works on a different browser or device, the problem may lie with your initial configuration.
Update your browser: Ensure that you're using the latest version of your web browser. Outdated browsers may have compatibility issues with certain web applications.
Disable browser extensions: Some extensions or add-ons can interfere with web applications. Temporarily disable any extensions and try accessing the application again.
Check for error messages: If the application displays error messages, read them carefully for any specific information or instructions. Error messages can provide insights into the cause of the issue.
Restart the application or device: A simple restart can sometimes resolve temporary glitches. Close the application, reopen it, or restart your device if necessary.
No luck sorting out your issue?
In case our troubleshooting steps are unsuccessful, you may want to prepare and send through a "Console shot" by following the steps below:
Right-click on the problematic page
Select Inspect from the dropdown menu to open a panel
Click on Console and open the Errors menu
Take a screenshot or snippet of the errors and attach it to this ticket
Sharing a "Console shot" allows our engineers to investigate specific errors more effectively.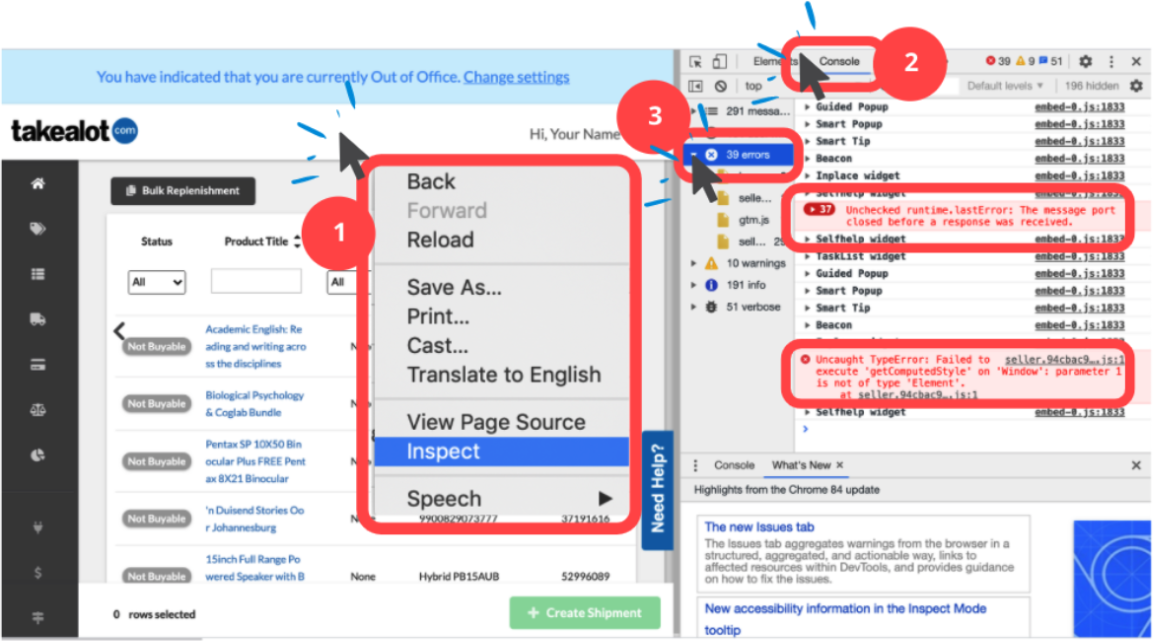 How to log your ticket
To log a ticket for support queries with your console shot and checklist of steps you have taken, please use this form with the following selections: Seller Query Type: Investigate a Technical Issue. Simply select the most relevant subquery, attach your screenshot and submit your ticket.
Please remember always to check your inbox for the ticket reference number. If you do not have a ticket reference number within 5 minutes, you may need to submit the form again to follow the 5 Guides provided on the page.