About your Contacts ("Tickets")
Once you have submitted your query, you can track the progress on the My Requests page of the Knowledge Base. If you were requested to provide any additional documentation throughout your query or dispute submission, you would need to access this page to upload these.
The My Requests page is part of Takealot's Knowledge Centre. Every communication you have with our teams, whether as a customer or seller, is managed through this platform. On the My Requests page, you can view all of your communications with our teams in a single consolidated view - eliminating the need to sort these from your busy inbox.
It is important to note that each My Requests page is based on the email address used to log the ticket and not the Seller ID. If you have used multiple emails to contact Takealot, then each ticket will require a separate account/login.
How to reach Takealot Marketplace
Open the Seller Contact Form
Fill in the blank fields only

Submit your query, dispute or appeal

Only after submitting your ticket should you log in
Please remember always to check your inbox for the ticket reference number. If you do not have a ticket reference number within 5 minutes, you may need to submit the form again, ensuring to follow the 5 Guides provided on the page.
How to access your Tickets
Step 1 - Go to the Knowledge Centre
To access your tickets, simply go to https://help.takealot.com/hc/en-us/requests if you are already logged into the Knowledge Centre or go to https://help.takealot.com/hc/en-us and click on "Sign in"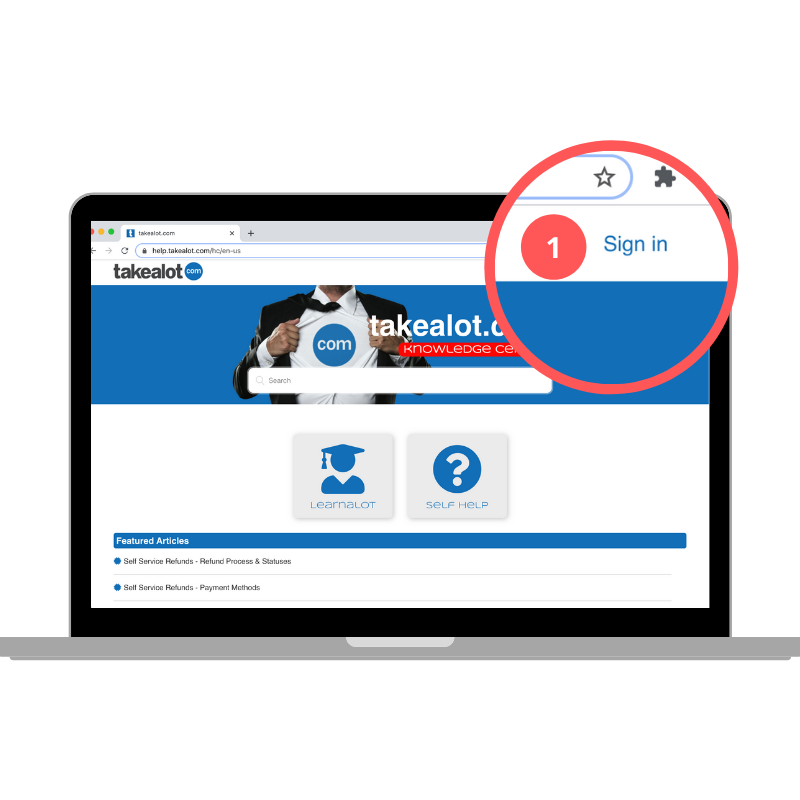 Step 2 - Login or Sign up
New email address
If you have never communicated with Takealot with the email address, you intend to use for your support tickets, then click on "Sign up" and follow the prompts.
Existing email address
If you have already communicated with a Takealot help centre and you would like to continue using that email address, you can click on "Get a password" and follow the prompts.

How to view your Tickets
Step 1 - click on your profile name
This can be found to the top-right of the screen (see image below)
Step 2 - click on "My Activities"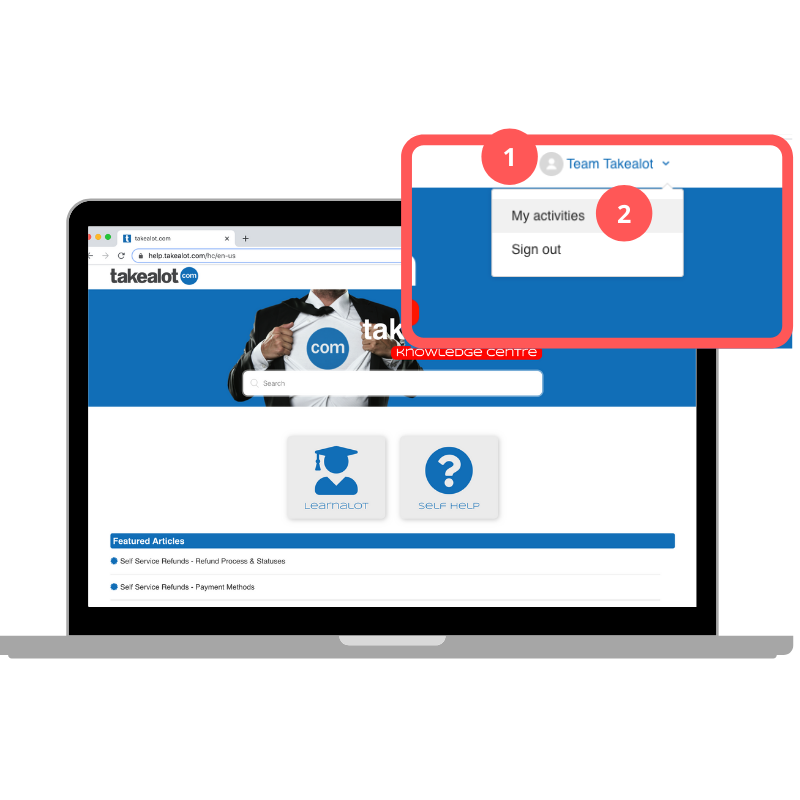 How to Manage your Tickets
View the image below and refer to the labels to see how you can manage your tickets.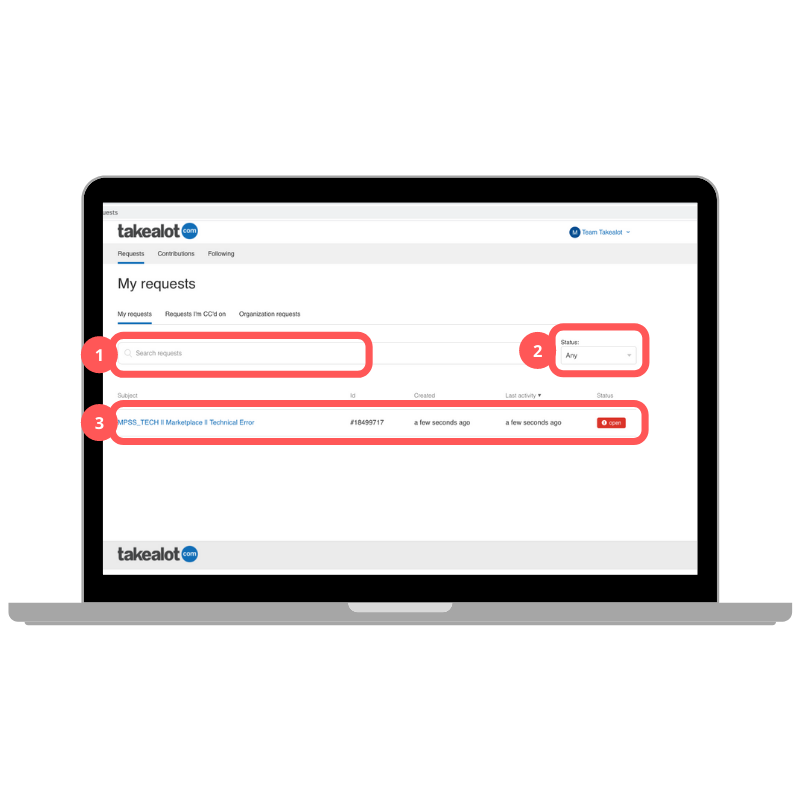 Once you have clicked on "My Activities", you will see the following:
1 - A search bar that you can use to search specific interactions with key terms
2 - A dropdown filter menu with the following ticket statuses:
Open -

this is a new ticket created that has been placed within our queue

Awaiting your reply

- the ticket has been responded to by an agent but we need more information

Solved -

the ticket has been resolved
3 - Your tickets default date with the following information:
Ticket Subject -

click on the subject title to open the ticket

Ticket ID - always reference this if you wish to refer to a specific query

Created -

the date the communication started

Last activity -

the last time either yourself or a support agent attended to the ticket

Status -

see above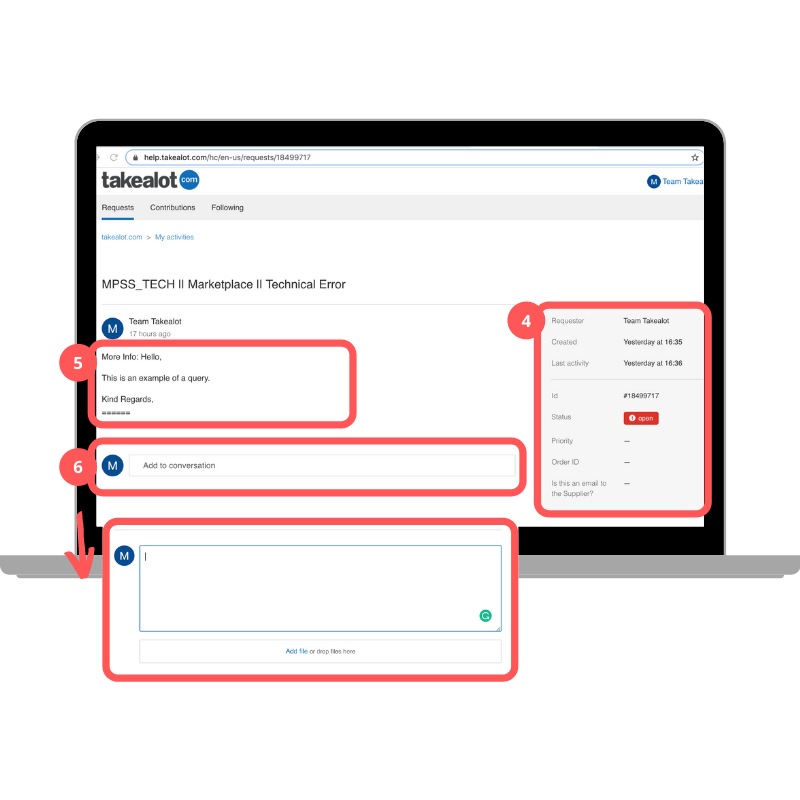 Once you click on the ticket, you can do the following:
4 - View information about the ticket
5 - View the description you have provided within the Contact Form
6 - Respond to the thread and attach documents. By clicking on "Add to conversation", you can:
Follow-up on the status of your ticket

Respond to questions asked by our team

Upload documents or images to support your query
Important!
Do not create new tickets to follow up on previously logged queries, as this will not assist in the resolution time of the query. Instead, you may find a longer turnaround time due to duplicate tickets placed within our pipeline.